Contouring can seem like a daunting addition to a makeup routine at first. We've all witnessed an unblended dark patch or a cheek that shimmers so much that it glares. What's more, it certainly doesn't take a one-size-fits-all approach. While one shimmery highlight might accentuate the cheekbone of someone with a lighter skin tone, it may wash out a darker complexion. For that exact reason, we've gathered a few of our Illamasqua experts to provide you with all you need to figure out how to contour and highlight in a way that suits you.
Keep reading for our best highlighter and contour for dark to light skin along with our top tips to master this face-sculpting step.
Kirsty's Contour and Highlight
Shade- Light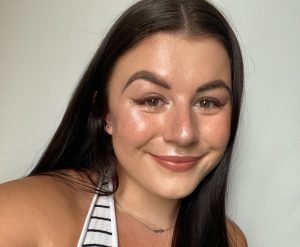 Which products?
I chose the Beyond Liquid Highlighter for highlighting as it blends so easily into the skin and gives a dewy effect, perfect for spring and summer when I want more of a natural, glowy look.
For a face contour, I chose Gel Sculpt. This contour also helps with this as it isn't too harsh on the skin so keeps my complexion looking fresh and natural all whilst giving my cheekbones a more chiseled look.
Which shades?
​
I went with Gel Sculpt in the shade Outline because I have fair skin so this goes well with my undertones and compliments my skin tone well.
I chose the Beyond Liquid Highlighter in the shade Daze because it has more of a cool undertone which also compliments my fair skin, I feel like it really gives me a glow on my cheeks!
Your tips on how to contour and highlight for beginners
I apply the highlighter with my ring finger as it helps warm the product up and I feel like I can blend more easily with my fingers than I can with a brush.
I dab it onto the tops of my cheekbones, under my eyebrows, on the tip of my nose, and on my cupids bow above my lip.
With Gel Sculpt, I like to dab it on again with my fingers to just below my cheekbones. I use a fair amount and go back in with my beauty blender to make sure it's blended to perfection.
I also like to apply it on the sides of my nose, around my forehead, and on my jawline to give a more bronzed look!
Shop Kirsty's Look