The red lipstick has been an iconic beauty staple since Ancient Egyptians were using precious stones and bugs to Queen Elizabeth I to Marilyn Monroe. Women (and, on occasions, men) have worn the crimson lip shade since makeup began, so why is it so hard to find that perfect red?! 
It's all down to finding the perfect red lipstick for you, not everyone can wear that dark, dreamy blood red or a bubbly bright, bold red but never fear, Illamasqua is here. 
HOW TO FIND THE PERFECT RED LIPSTICK?
Before we begin the flowchart, it's important for you to discover your skin undertone, as this will help you find the perfect red lipstick for your complexion. 
WHAT IS MY SKIN UNDERTONE?
Now, don't panic if you have never heard of the term undertone. If you think of your skin as two layers, your undertone is the layer underneath the top skin. You are either a Rose (pink), Neutral (pink and yellow) or Golden (yellow) undertone. Luckily you don't need to guess as there are ways of helping you discover your own individual undertone. 
The Jewellery test – If you prefer the way silver looks against your skin, you're more likely a Rose undertone but if you're better in gold, you could be a Golden tone. If you're inclined to wear both and they suit you – you might have a Neutral undertone. 
Clothes test – Which colors can you wear best? If you're better in blues, greens and blue-reds then you are more likely a Rose undertone. If you are better in yellow or orange-reds, then you have a Golden undertone. 
Tan test – If you tend to tan under the sun and not burn, then you may be a Golden undertone. If you don't tan and just burn then you have a Rose undertone. Those who both tan and burn, you're likely Neutral. 
This however is just a guide and sometimes your answers might clash. Eventually you will discover through trial and error what your undertone is. Alternatively, head to one of our counters and ask for assistance where our teams will help determine this with you.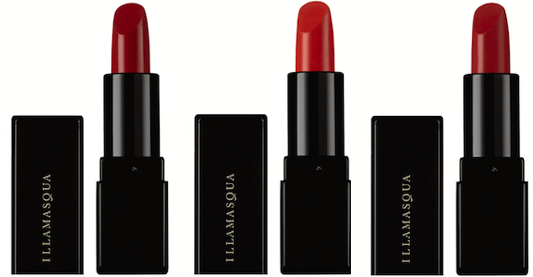 NOW, on to the pressing matter of finding the perfect red lipstick for you! Take our test below and find your red…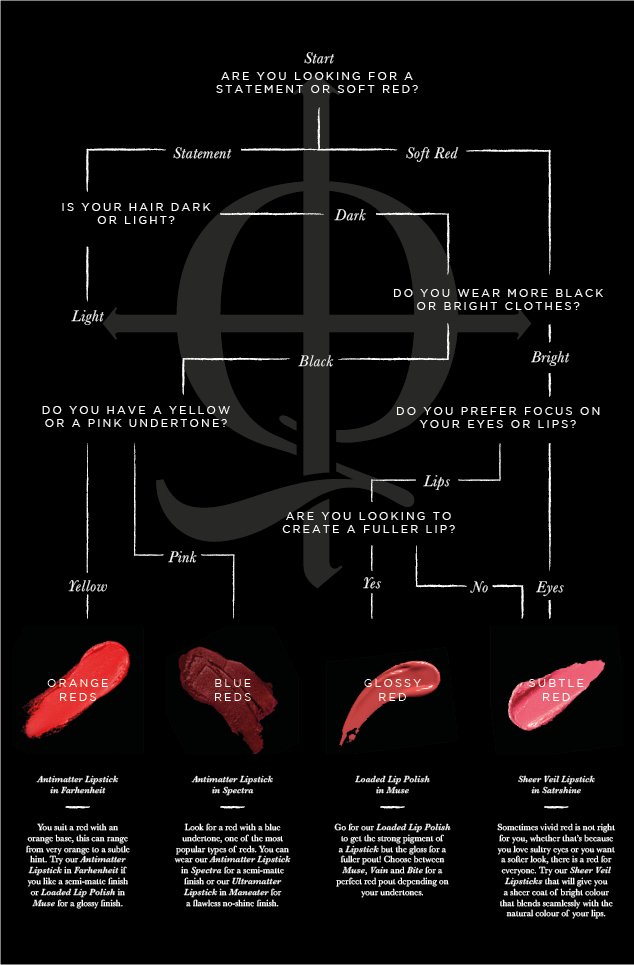 WHICH RED LIPSTICK IS RIGHT FOR ME AND MY SKIN TONE?
Orange red lipstick
Hey there warm undertone group, you tend to lean towards the more orange and yellow toned reds as it sits better on you than reds that contain blue tones.  
Shop our Antimatter Lipstick finish for a long lasting, color intense look with a semi-matte cushioned finish. Shades like Blaze and Farhenheit are perfect for you. Line your lips with the Lip Colouring Pencil in Spell for the ultimate finish. 
If you prefer a more glossy look, opt for Muse in our Loaded Lip Polish . We recommend opting for a flick of Precision Gel Liner for a simple, classic eye against this bright lip.  
Blue red lipstick
Cool as a cucumber – you fall into the cool undertone family. Opt for reds with blue a slight blue undertone as these will complement your complexion perfectly. Our semi-matte Spectra Antimatter Lipstick, Ultramatter deep blood red Maneater or high-shine Bite Loaded Lip Polish.  
Looking for an eyeshadow match made in heaven? Our Powder Eyeshadow in Daemon should be your new favorite. 
Subtle reds
When we say subtle, we mean that you might not want a bold or bright red lip, but something with a slight hint of color to make your lips pop. Not everyone suits a red so this is a great way to get involved without looking washed out or overdone. Try our Starshine Sheer Veil Lipstick for an apple red. You could also gently tab any of our Ultramatter or Antimatter Lipsticks on with your fingers to create a gentle stain.  

We hope we have either inspired, helped or at least entertained you with our guide to the perfect red. Curious how to apply red lipstick? Find our pro tips in this post.
Head over to the site to check out our full range of Lipsticks and find your perfect finish by taking our quiz here.  
FIND YOUR FINISH