It has happened to the best of us. We double-check our perfectly applied makeup before leaving the house. It's smooth, seamless, and most definitely the right shade. One hour later, an entirely different look stares back at us. Whether it's the harsh reality of the rearview mirror or the office fluorescents, in a different environment, the blending we did that morning appears to have been futile. What is going so drastically wrong in the space of an hour? When the day's activities aren't to blame and you know how to apply your makeup, it's time to assess your makeup lighting.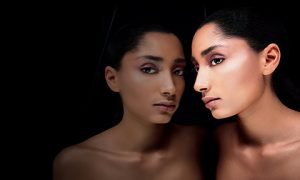 What is the best lighting to put on makeup? Once you know the answer to this, the variation between the face you see in the safety of your own home and the one displayed out and about will be no more. You can walk confidently into the office bathroom without a flinch. Keep reading to discover the lighting to avoid and the one that is best for putting on makeup. 
Lighting mistakes to avoid
Let's begin with the lighting mistakes to avoid, which unfortunately includes the lighting we love the most. We understand that turning on a blinding ring light first thing in the morning isn't ideal, but that soothing, orange glow from a salt lamp won't do. As flattering as it may be, soft, moody lighting is a catfish of sorts. According to makeup artist expert Melanie Barrese, "lighting is everything when it comes to makeup, and that's whether you're doing makeup on a shoot or in your bathroom. More than anything, you need to ensure the lighting a slightly warm, white light, but more importantly, it's directed at your face, as opposed to overhead, this will allow you to clearly see your face." 
In other words, keep the soft lighting for after you're glammed up. 
The next big mistake is using natural light at an angle for makeup application. For example, sitting with your back to a window or beside one which is only highlighting a part of your face. Make sure you face the light. We don't want to stare directly into the sun, but angle yourself towards the window where the light comes in so your face is lit evenly and no shadows are casted. This means when buffing and blending with a foundation brush, you'll be less likely to leave any gaps.