Welcome back to our practice makes perfect series where our Head Makeup Artist Mel Barrese walks us through applying the makeup basics – as life returns to normalcy. This week is all about getting the perfect eyebrows. 
There are so many different styles and trends when it comes to eyebrows. From a sculpted brow to fluffy and delicate, it can be challenging to keep up with the eyebrow makeup trends. Lucky for you, following your natural brow shape and this eyebrow makeup tutorial will help enhance, lift and define your overall look.  
Eyebrows are an essential element to the face and makeup routine. They frame the eyes and structure your look regardless of your makeup style. Plus, brows are very personal because every one of us has our own unique brow shape. Once you understand your shape, you can create the look you want based on your natural arch: whether that is bushy eyebrows or thin and defined, you will learn to build on what you have and discover the eyebrow products for you. 
If you're just getting back in the eyebrow game, we recommend taking the below steps to learn how to get the perfect eyebrows for beginners.
STEP ONE: COMB THROUGH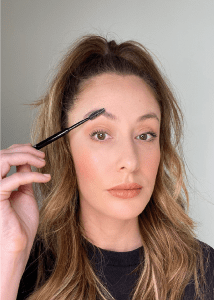 The first thing to do is take our Eyebrow Groomer and comb through the brows. Using upward motions, follow the shape of your eyebrow. Take this as a chance to move the hair in the direction you want. 
This allows you to see what you are working with — putting the hairs where they need to go will enable you to map out where you need to apply product.