There's no shame in using the finger to dab concealer under the eyes or blush on the cheeks. However, if you think how to apply foundation is with your hands, we're here to burst your bubble. It may have been deemed acceptable ten years ago when blending didn't exist. Today, years of missed patches and streaky lines have taught us that when applying foundation, there are preferred methods. What's more, since there is now a foundation shade to match every tone, there's no excuse for a face-neck contrast. The method of how to apply foundation has certainly progressed in recent years, but also depends on the type of look you're going for. For example, if you prefer a natural look, you may want to know how to apply powder foundation rather than liquid. The tools and techniques differ depending on your choice of coverage, texture and whether or not you're sticking to your true skin tone.
Keep reading for our guide on how to apply foundation for your perfect look.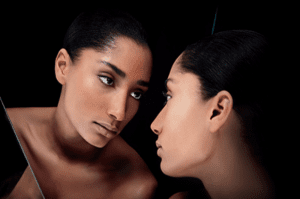 How to apply liquid foundation
The most common foundation formula is a liquid one. Although the go-to choice for a flawless complexion, liquid foundations can also be the easiest to leave a few streaks. To avoid these streaks, we have crowned the foundation brush and the sponge as the best ways how to apply liquid foundation. However, the key to the entire process and one which many still get wrong is finding the right shade.
Your skin will be one of the four types of undertones:
Warm
Olive
Neutral
Cool
If you have porcelain skin but unfortunately tend to scald on your sun holiday, you fall into the cool category. If you're a lucky one who returns from a few days abroad with a deep bronze, you're most likely warm. Once you've found your undertone, swatch two or three shades from that range against the jawline. The one which blends seamlessly is the one that will not require you to paint the entire neck to avoid lines. However, your skin-tone can vary at different times of the year, because unfortunately life doesn't bless us with a sun-kissed glow all year round. So, make sure to update your foundation shade when necessary. If you're shopping online, we have provided an AI Shade finder to narrow down the twenty six shades of Skin Base Foundation for the one that suits you.
How to apply powder foundation
If you prefer your natural complexion to shine through but still want to blur imperfections and even out your skin-tone, you may want to know how to apply a powder foundation. Many people presume that applying a powder foundation is a much simpler process than applying a liquid foundation. Although yes, it's easier to avoid that visually upsetting face-neck color contrast, applying powder foundation has some obstacles of it's own. To ensure that your powder foundation doesn't fall into any cracks, it's best to apply a primer first to create a smooth base to work with. You also want to make sure it doesn't end up looking cakey or dry, which is largely due to how hydrated your skin is. The Illamasqua Hydra Veil Primer is part hydrator, part primer, so works as the first step to apply powder foundation by prepping the skin for a smooth hydrated base.
How to apply foundation with a brush
Hopefully at this point you've established the foundation you want to apply and have now decided that you want to know how to apply the foundation with a brush. The brush is a staple for applying makeup but with so many shapes and sizes, it can be tricky to know which one to use for what.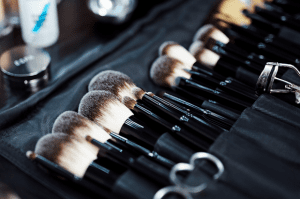 How to apply a liquid foundation with a brush
Let's start with the best brush to apply a liquid foundation, a Stippling Brush. You'll notice your Stippling Brush has two sets of bristles. The long set applies the product to the skin, while the shorter, denser bristles pushes it into the skin for a flawless base.
Squeezing some foundation on the back of your hand, dab the brush into the liquid and lightly dot the product on the target areas such as the forehead, nose, chin, and cheeks.
Now you can begin making quick, small circles working outwards towards the edges of the face.
Don't forget to blend both into the ears and neck! A little tip on how to apply foundation with a brush- give yourself a double-chin. That way, you can ensure that the product is properly blended into the neck.