You may have heard of latest 'clean girl' aesthetic that's doing the rounds. It's a complete look that gives the impression that you eat your greens, drink liters of water, get eight hours rest and enjoy yoga on the weekends. Perhaps you do all of the above and if so, hats off. If, let's say, you unwind with reality TV rather than meditation- fear not, we have makeup. That glowing, illuminated appearance is a beauty trend which focuses on a natural base, so think plump skin, glossy lips and scatters of freckles.
Freckles help to achieve a youthful, sun-kissed, flushed complexion, hence why they play a big part in this 'lit from within' look. If your skin is entirely freckle free, you can simply create faux freckles!
This is our guide on how to get fake freckles for that sun-kissed, polished look.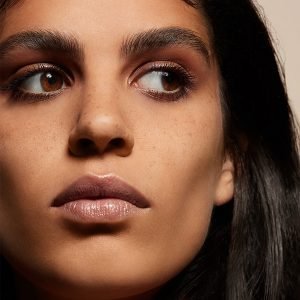 3 techniques to get the fake freckle look
Once you've applied your foundation and set all of your makeup in place, it's time to sprinkle on those faux freckles. Similar to how you may prefer to create a cat-eye flick with a pen over a pencil or gel, you can choose whichever product you feel most comfortable using in order to get your fake freckles. However, it's important that what you use has a natural, brown tone and a precise tip, so eye and eyebrow products are the best options.
Freckles mainly form on the high points of the face that see the sun, so the areas to focus on are the bridge and sides of the nose, as well as the apples of the cheeks. However, you can scatter them all over for a real statement look. Add a few dots here and there on the forehead and the chin!
To look as natural as possible, we want the freckles to blend in well with your hair and skin. With each product comes a different technique so we're going to be looking at using how to do fake freckles with an eyeshadow, an eyeliner pencil and an eyeliner gel.  
How to do fake freckles with eyeshadow
The eyeshadow technique is the safest way to get fake freckles if you're a beginner. Eyeshadow comes out softer on the face than other techniques, so it's hard to go drastically wrong!
With eyeshadows, it's important to pick the right shade. Begin with a shade that's only slightly deeper than your skin tone such as Lear for lighter skin tones or Eponine for deeper skin tones from the Elemental Artistry Palette.
If you want to do fake freckles that are more obvious or have a very deep skin tone, you can mix Eponine and Elphaba for extra definition.
Use an ultra-thin Liner Brush and cover with a small amount of product at first.
Tap it lightly onto the skin, starting on the sides of the nose and continuing on to the bridge and apples of the cheeks.
Keep going until you have done the amount of faux freckles you want, and don't forget to add space in between them so they appear more believable.