As the festive season comes upon us, so too, does the panic shopping. There's undeniable pressure at this time of year to not only treat our nearest and dearest with gifts but to meet their expectations while doing so. We are now trained to spot a re-gift from a mile away, so think twice before wrapping up that dusty hand lotion set. On top of all of this, when it comes to gifts for makeup lovers, things only become more complicated. Makeup is specific and a matter of personal preference, but if you get it right, it can make a wonderful gift. If it's your first time shopping for a makeup lover, you may need a helping hand. Do you know what shade of skin they are? Do they prefer a matte or dewy finish? If you're already feeling overwhelmed, fear not.
Keep reading for our makeup gift guide- gifts for makeup lovers that won't go to waste.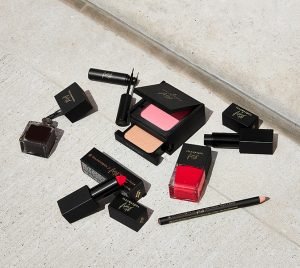 The Essential Gifts for Makeup Artists
To begin, let's take a look at some of the essential gifts for makeup artists.
Gifts for makeup artists are a tricky one. Many find themselves hesitating and thinking, surely a makeup artist will already have all the makeup and brushes they need? Indeed they might, but do they have a place to put it all? A belt brush, for example, is the perfect tool that will allow them to effortlessly and neatly keep their equipment at hand. The Illamasqua Brush Belt is a durable choice that they're bound to love. With a chic black finish (wipe-proof for any spillages) and ample space for a variety of brushes, this brush belt will soon become an everyday necessity.